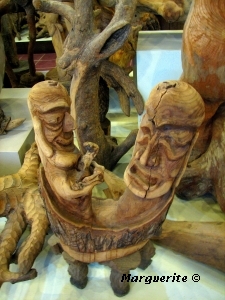 This display was quite a surprise.
We were nearly to Sokcho when the bus pulled into this Woodcarving place where there was an extraordinary display of penises of all sizes and shapes.
The carvings were actually quite intricate and fascinating, and the variety and range of design was simply marvellous.
Many of these border on erotica, and I wondered who would purchase a tree sized penis, and where they would display it. They certainly would make interesting totem poles for your garden if the neighbours did not complain.
The quality of the artwork is excellent, and though I missed it when I took the photos, there is a small photo and story about the sculptor....in Korean..on the lower corner of one of the Open Photos..