Monkey Mia at Shark Bay, about 833 kilometres north of Perth, has become famous throughout the world. It's here that the wild dolphins come right up to the shore to be fed and stroked by visitors.
The Shark Bay area comprises two peninsulas and many small bays and inlets. All are safe, shallow and sheltered.
It is here in the Shark Bay area that dolphins have been coming into shore from the deep to interact with thousands of visitors from all parts of the world. Dolphins are fed daily with a fresh fish, and tourists flock here to see the dolpins and take photographs. There are 2 boats that take cruises over the reefs, and the shore is loaded with very friendly pelicans who are happy to be photographed.
Monkey Mia is 500km detour off main road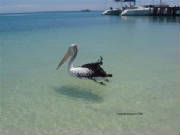 Photograph by Marguerite Copyright 2005